Hustle and bustle best beloved, time's a wasting. You're pounding the pavement and kicking the carpet, but it's gotten stale. Times are tough, and scheming sniveling scoundrels are lurking at every turn. Hitting the street you ask yourself; what's the scoop here anyway?  Your heart is lost in its troubles and rounding a corner full tilt, you nearly bowl over a sprightly gal.  Luckily she sees you're troubled and takes pity on you. Ah beloved, what can you do, but keep your chin up and forge ahead? So said gal leans forward and, with a mischievous glint in her eye, asks you a riddle:
It's high above the ground, traffic melts away, there's barely a sound. The Redline is near, right across the street, so it's easy to get a bite and an aperitif.
The inside is beautiful pulled out of time, the patio is better it's highly sublime. Look out at the city, the rooftops are aglow.  Maybe a hero will drop in, save the day, thwart your foes.
I'm going there now, follow you may.  It's a place little birds sit all night or all day. Come take a breath, get perspective and play.
Where am I going?
You smile, because you already know.  You know high above the city a swank establishment sits perched on roof of a building.  And like the carefree little birds that fly through the skies you have place to land. A place to get a peck and potable, a place called Perch.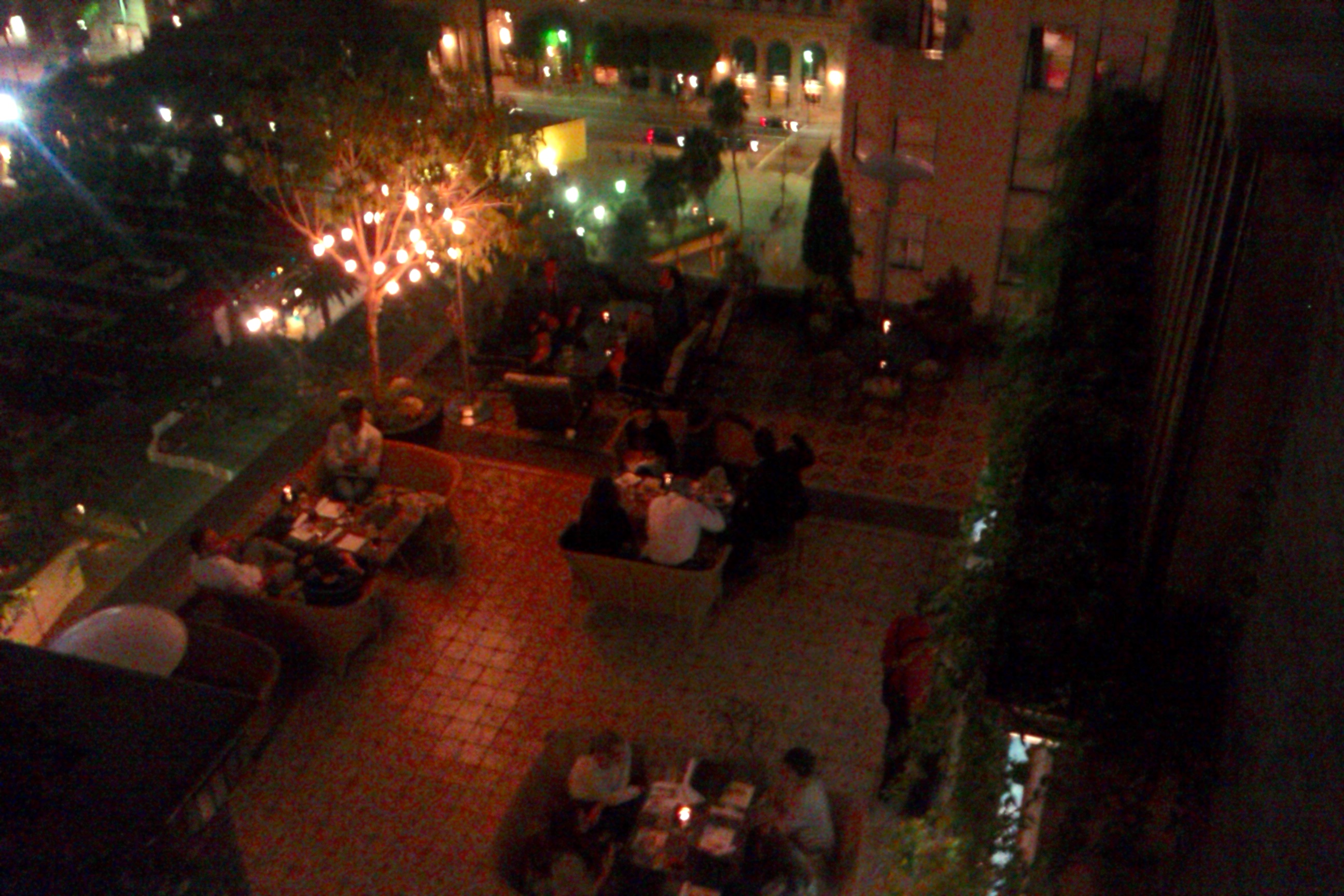 Perch is a French inspired bistro and bar that sits on the top of the Pershing Square Building in good old downtown L.A.  The menu is a playful American take on good French standards.  Try the Frogs Legs appetizer.  Be bold. Just because they taste like chicken, doesn't mean you should be one.  Duck, Duck, Goose is another good option. If you are having an entrée go for the Perch au Noisette. If you fancy desert the Chocolate Pot de Crème with Fleur de Sel and Tart Cherry Caramel will make you change your citizenship. Perch's menu rounds out with great vegetarian choices; a Sweet Corn and Pea tendril Risotto and hearty salads.
The bar(s) at Perch are equally enticing. If you like an Old Fashioned, get one.  Made from scratch with real maraschino cherries it will send your spirits soaring. Well appointed with clever list of house cocktails, liquors, beer and wine; Perch's bar offers really nice options in every price range.  Don't fret if you aren't interested in the hard stuff, a little bird let it slip that Perch also serves a mean cup of coffee.
So with rooftop fireplaces to warm your hands, three rooftop bars where you can heat up your social skills and a hot hot kitchen to fill your belly; Perch proves that high above the streets Angelenos have somewhere to soar.
So so, here we go…
Who: Bright and Beloved Baby Birds
What: Perch
Where: The Pershing Square Building. 448 South Hill Street Los Angeles, CA 90013. 213-802-1770. http://perchla.com
When: Monday – Wednesday, 4pm – 1am. Thursday – Friday, 4pm – 2am. Saturday, 10am – 2am. Sunday, 10am – 1am.
 Why: Life is to be lived.
Know when you go: Perch has Happy Hour from 4 – 6pm. Reservations are strongly recommended for dinner, or take your chances at the bar. Thursday – Saturday, The tippiest top floor of Perch is open to all and has seating for drinks.
Prices: Food runs from $8 – $37. Drink runs from $6 – 8 for beer; wines run $9 – 15 by the glass, wine is also sold by the bottle (prices vary) cocktails run $12- 14.
A la Votre!!