Walk again, we talk again Sola Traveler I see. Walking through our world on our own two feet.  A sojourn through the Balkans is a trip indeed, through a city that has been in many hands and seen many, many feet. You'll find strong ancient turreted walls and dragons, as seen on TV. Oh now, don't fret – watch where you walk or your feet will get wet.  The place you seek, the place you'll find, is in the sunny south of a land so kind. Once a city and a country shared its name, in what is now Dalmatia do you follow this game? You can arrive here by bus, car, boat or plane. For Sola Traveler this place to be is the city of Dubrovnik beside an azure sea.
Old Town Dubrovnik
The city of Dubrovnik (originally Ragusa) is home to over 42,000 people, and perhaps, hundreds of sprightly spunky cats. In existence since the 7th century, Dubrovnik and its inhabitants have survived earthquakes, wars, and even Hollywood across the centuries, maintaining their joy of life, delicious diet, and pristine waters. A UNESCO world heritage site so heartbreakingly beautiful, you'll wonder if you aren't dreaming as you wander the streets of Dubrovnik, talk to the locals and gaze out over the beautiful Adriatic Sea.
Winter in Dalmatia is generally mild, though strong cold winds do occasionally blow. If you the gondola is running, take the trip to the top of Mount Zned for stunning views of the city and the Dalmatian islands that surround Dubrovnik. If winds are high the gondola won't run, but if it is, get on the gondola and go, you won't regret it.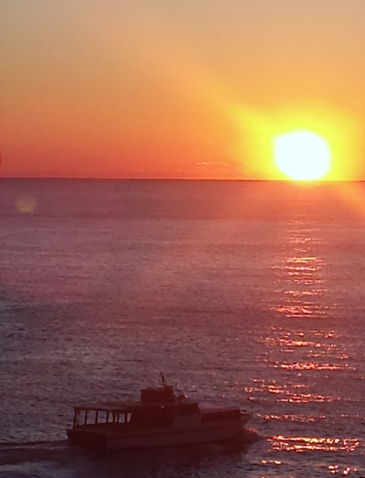 Another not to be missed treat is the spectacular Café Buza. Snuggled into the cliffs just outside of the city wall, this hidden bar can be found by following signs inside the city that advertise "cold drinks with the most beautiful view". Step through the hole in the wall and you'll find Café Buza. This little drinks-only spot is open until just after sunset. Sit, relax, enjoy the music and watch the sunset with a delicious glass of Croatian wine or beer. Though prices are a little higher than other cafes in old town Dubrovnik, the views of Lokrum Island and the Adriatic make the few extra Kuna worth it.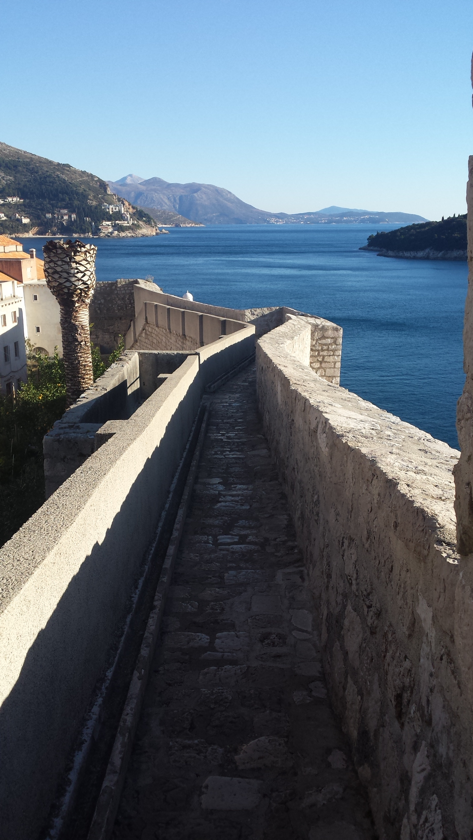 Dubrovnik is a walker's paradise. The Pedestrian only old town Dubrovnik allows you to explore its clean limestone streets inside the city walls without the worry of traffic. In fact, cars can't get to many parts of the old city. Most streets are sprawling limestone stairways leading up to apartments, restaurants, shops and churches from the main street of Stradun.
Once you've walked through the inner city be sure to walk the marvel that is the city wall. Twelve Kuna gains you admittance so you can climb up and down tower stairways, walk along gorgeous passageways and look out from turrets to the sea below. Gaze down at the tile roofs of Dubrovnik. You'll see the people of Dubrovnik going about their lives and the cats of Dubrovnik going about theirs. The wall is approximately 1.2 miles long and will likely take you 2 – 3 hours to complete as there are many places you'll want to stop along your journey. Across a small bay, you'll see the fortress of Lovrijenac. Lovrijenac is also part of the city wall, and your ticket allows you entry here as well.
Walking the walls and street-stairs of old town Dubrovnik will help you work up an appetite.  Lucky for you the cuisine of Dubrovnik is excellent. Old town Dubrovnik has many little restaurants and konobas to choose from. You will be hard pressed to find bad food in Dubrovnik. Three great places this ravenous Sola Traveler chose during her too short stay are, the cozy Konoba Rozario, the chic Konoba Dalmantino and the lovely Lucin Kantun. You can't say it too many times, Croatian food is delicious, and the three restaurants above all bring their own talents to the table.
At Konoba Rozario try the Brodetto, it's yummy and traditional, as is the black risotto. Try the brandy with herbs it's good. But be prepared, when your kind Croatian servers caution that the brandy is strong, they aren't lying. But you can sober up while you eat a piece of delicious homemade orange almond cake. There is no loss here, the brandy is worth it, so is the almond cake, so is the server's quiet smirk.
Konoba Dalmantino will temp you with Croatian delicacies made with a modern twist. You should absolutely try the cheese plate. Cheese plates are always good, especially when there are Pag Island cheeses on them. Another gorgeous option is the grilled shrimps with fennel, rocket, cheese and pine nuts. You could start your meal with a glass of Croatian brandy, and finish it with a glass of excellent Croatian wine. Some you all know, did just that and didn't regret it for a second.
Lucin Kantun is tucked away on a small street just off Stradun. Love emanates from every corner of this pretty, little restaurant. Watch your chef caringly create every dish from within the open kitchen. The savory cream of lentil soup is divine. The shrimp risotto is rich and delightful. Lucin Kantun makes you feel as though you are a beloved guest dining in a private home.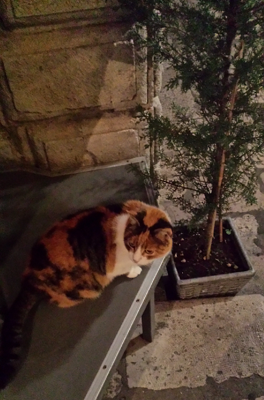 Speaking of guests, don't be surprised by the cats of Dubrovnik. As you may have heard, Dubrovnik is home to many, many pretty little kitty kitty meow meows. The human citizens of old town take great care with their feline neighbors. As you stroll, you may meet a curious cat or six. Some will stop to talk and beg a petting, others just watch to make sure you are behaving yourself in their fair city. The cats of Dubrovnik are lovely to behold, and the subjects of many tourist photos.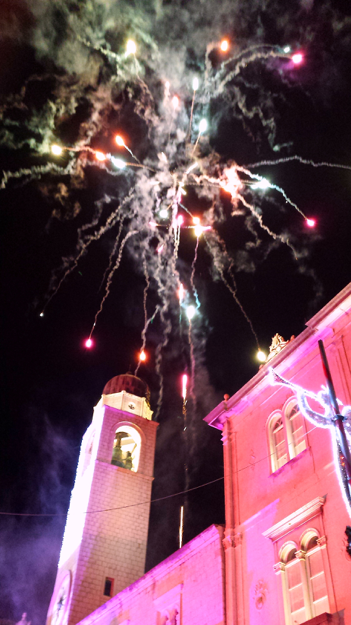 Winter in Dubrovnik is a lovely time to visit for savvy travelers trying to get an idea of what life there is like.  Summer brings scads of people, so many that Dubrovnik has implemented a maximum capacity for old town. Winter offers fewer visitors, Christmas Markets, and New Year's Eve celebrations. Dubrovnik hosts concerts and fireworks displays every year for New Year's. Famous Croatian musicians perform for free in Luza Square at the end of Stradun. At the stroke of midnight, gaze upward as fireworks fly overhead, shot from the city walls to explode over the city. You can feel the explosions reverberate in your chest as fireworks sparkle and fall back to earth. So, grab a cup of kuhano vino and settle in with the laid-back toast the end of one year and the beginning of the next.
You'll likely enter old town Dubrovnik from Pile Gate, the impressive arched gate that connects old town to the rest of Dubrovnik by bridge. You can reach the old harbor from either the Ponte Gate or the Fish Market Gate. Both gates are located near Luza Square at the opposite end of old town Dubrovnik, a short walk down Stradun from Pilate gate. Once you are outside the wall of the old city wander along the wall at the edge of the Adriatic, or pause and sit on the jetty. Lovely views abound.
Mostar and the Countryside of Bosnia Herzegovina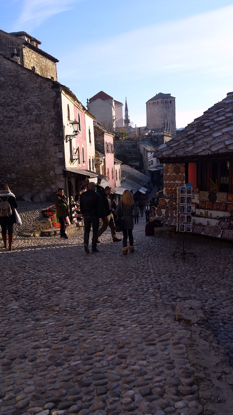 Day trips offer a great way to explore once you've anchored yourself in a city. Small group tours are an easy way to accomplish this. You can focus on the countryside and ask your guide questions.  Also, if you are traveling on your own, small group tours are a great way to join other people. Tour guides in Croatia generally speak English and are willing to help tourists out with any information they can. The day trip to Mostar in Bosnia Herzegovina is the trip this intrepid Sola Traveler took out of Dubrovnik.
Approximately three hours from Dubrovnik is the city of Mostar located in the country of Bosnia Herzegovina. Named for its stunning and famous Stari Most (Most means bridge) the old part of Mostar is truly an amazing example of medieval Ottoman architecture. Originally built in the 16th century, Stari Most is a single arch bridge made of stone that spans the Neretva River. The bridge and old part of the city are now protected as a UNESCO world heritage site.  Reconstruction was finished in 2004 following shelling that destroyed the bridge during the Bosnian Conflict in 1993. You will see damage from shelling during the war immediately outside of the old city in Mostar. The damage is sobering to see, but makes you appreciate the beauty of the rebuild that hopefully extends beyond the stones.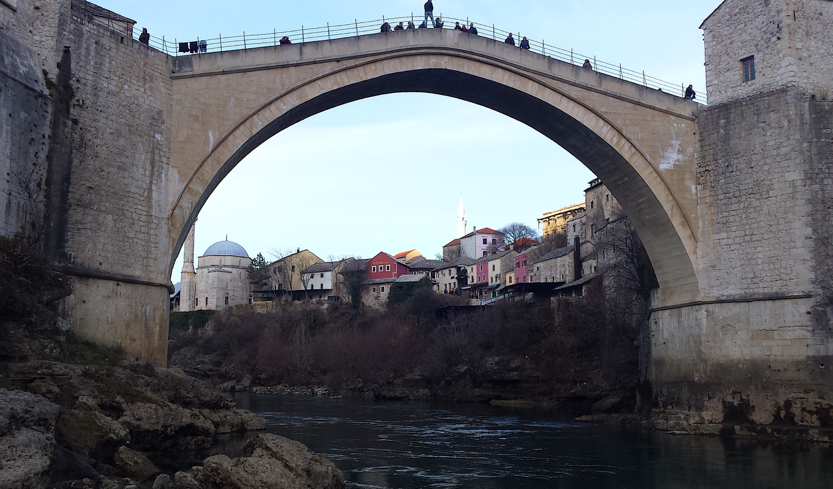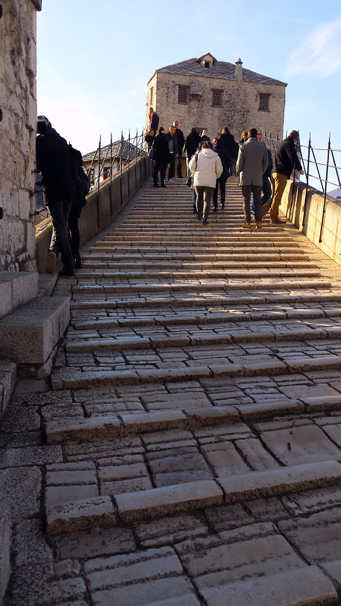 Cross the bridge and marvel that it was built and then built again. It is truly a site to behold. The arch is steep but when you reach the middle stop and look out at the clear green water of the Neretva River. Then continue your cobblestoned journey. Bosnian artisans are known for their metalwork. There are many shops where you can purchase enameled copper and silver filigreed items. The streets of old Mostar are quiet and hauntingly beautiful. Even more beautiful are the people of Mostar. Shy and kind, the people of Mostar are diverse and friendly and welcoming the tourists walking in their midst.
The journey from Dubrovnik to Mostar has many amazing places to visit along the way. Just over the border from Croatia, and twenty-five miles south of Mostar are the Kravica waterfalls. Though they can be hard to find, (this is where a small tour guide comes to your rescue) they should not be missed. The falls are approximately 75 feet high and crystal clear aqua blue water cascades over them. In the summer a small café is open, and many people spend the day, swimming in the pools at the base of these beautiful falls.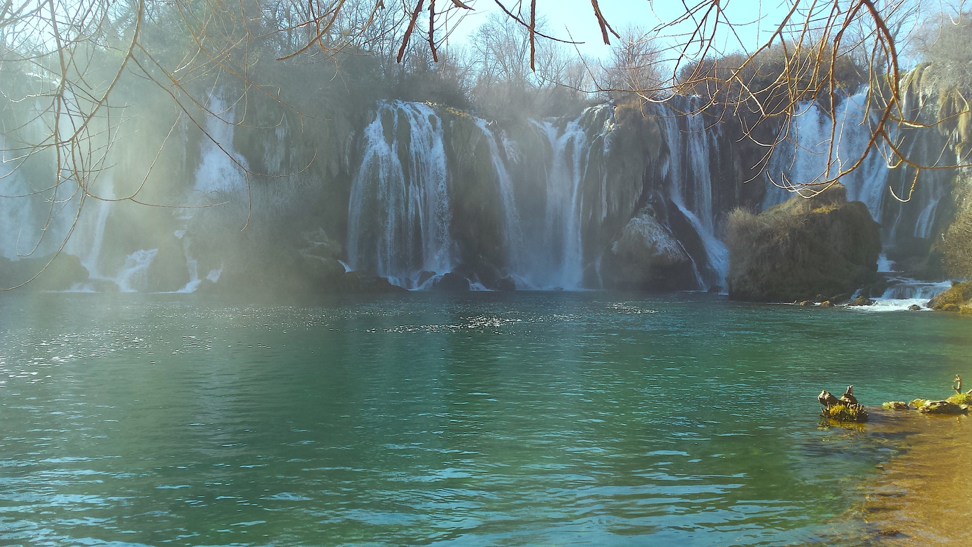 After Kravica, another neat stop is the village of Pocitelj. Another protected UNESCO world heritage site, Pocitelj is a medieval and Ottoman stone village built into a hill above the Neretva River approximately 19 miles south of Mostar.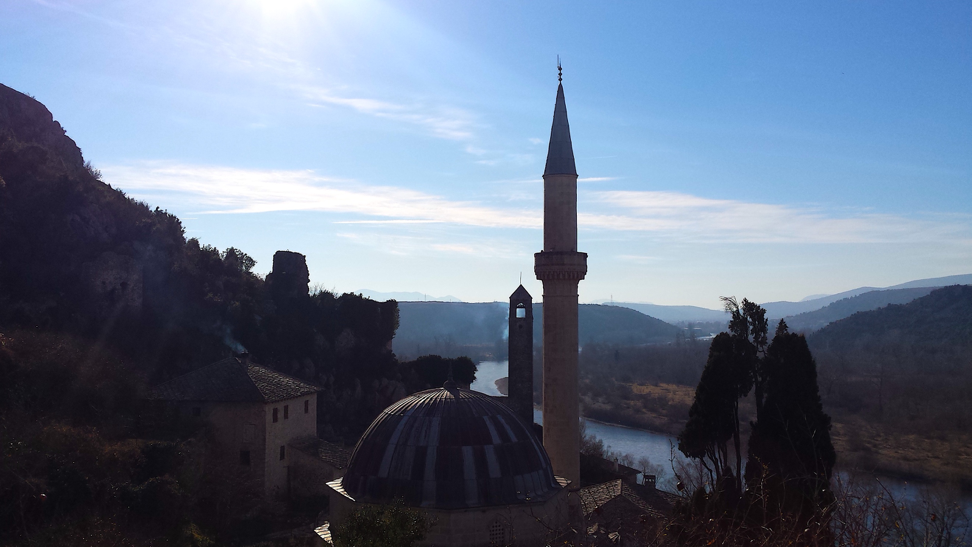 Getting to Dubrovnik
Getting to Dubrovnik is relatively easy. Dubrovnik has an international airport, so you can fly in. You can also rent a car. Dubrovnik is approximately a six-hour drive from Zagreb (Croatia's capital city). You can't take a train to Dubrovnik however; Croatia has an excellent network of buses and bus travel is one of the most popular ways to travel between cities. Buses in Croatia are relatively inexpensive and most have Wi-Fi.
Getting Around and Other Inside Information
Below are some tidbits of traveling information to help you hit the ground running.
 Tourist High Season – July and August.
Tourist Information Center – The Dubrovnik Tourist office is in near Pile Gate just outside of the old city: Brsalje 5, 20000 Dubrovnik, Croatia
Dubrovnik Airport – The airport is approximately 9.5 miles from Dubrovnik's city center.Dobrota 24, Močići, 20213 Čilipi Croatia.
Taxis – There are taxi stands at the airport, bus station, and outside of Pile Gate.
Bus Station –Many Croatians take the bus between different cities. Trains are not used as much as in other European cities. There are many bus lines. Tickets are generally inexpensive. Check buscroatia.com or getbybus.com for routes and ticket I took a bus from Zadar to Dubrovnik for $28 (190 Kuna). You can purchase your ticket at the station, though advance tickets can be ordered online (purchase in advance during the tourist season). Obala pape Ivana Pavla II 44 A, 20000 Dubrovnik.
Ferry – You can take a Ferry from Dubrovnik to several local islands, other mainland ports and multiple ports in Italy. Obala Ivana Pavla 2, 20000 Dubrovnik, Croatia.
Groceries – In addition to the open-air market in old town, the grocery store chain Kozum has branches throughout Croatia, including Dubrovnik.
Pharmacies – You can easily spot pharmacies in Croatia, they are marked with a green cross.