Ah sola-traveler, it's good to be, walking in a rainy city with galoshes on your feet. The verdant summer has been left behind, for autumnal antics of a certain kind. The weather is stormy because it's fall, but don't fret, a jacket or umbrella will keep you dry not wet. The trees are lovely, wearing their finest coats. Leaves are turning from green to red, orange and gold. The city is fine, the mountains are too. Go both places, the drive is only an hour or two. The drive from Seattle to Leavenworth is nice, through the Cascade mountains, a lush paradise. October is the time for festivals you see, festivals of the harvest, so eat, drink and make merry. Munich is far but Leavenworth is near, a little Bavarian town filled with dirndls, lederhosen and beer. Come laugh, come play a good stout hall keeps the weather at bay. You'll soon be dancing with a thousand new friends. The band plays – come in and sing songs 'til the day's end. Because Oktoberfest is the name of the game, so is Seattle of grunge and coffee fame.
Zicke Zacke, Zicke Zacke, Hoi Hoi Hoi!
Leavenworth's Oktoberfest festivities are held the last weekend of September and the first two weekends of October. Fall in the Pacific Northwest means weather will be fickle. You can have warm sunny days, and cool crisp nights. Or you'll experience a temper tantrum rainstorm, for its very own reasons. Bring a jacket and pack an umbrella in case you get caught out in a shower. Regardless of the weather, if you are travelling over the pass don't forget to look around you. The Cascade mountains are beautiful and in Autumn, the foliage will be lovely. On your way to or from Oktoberfest stop at Snoqualmie Falls and the Salish Lodge. If you are a Twin Peaks fan, you'll probably recognize your surroundings.
Oktoberfest grounds are in downtown Leavenworth, easy to find and get to since the festival operates local shuttles to help you and everyone else out. Tickets for entry go on sale in August, and will set you back about $10. Once you are inside the festival, buy your tickets for beer, wine and food. There are four halls to choose from. All have live music and each one is a party, though there is one that is the partiest. Find it, you'll know when you do and that's half the fun. Leavenworth's Oktoberfest website offers information about the cost of shuttle service and the areas served. Take advantage of the shuttles. No one wants to see anyone get hurt. Oktoberfest is family friendly, so there will be kiddos running around until adults only hours start at 9pm. Just remember the party gets lively well before then.
Also remember to wander through shops, galleries, and delis for all kinds of Bavarian items. Need a Christmas tree ornament? There are shops with thousands to choose from. Want to sample imported alpine cheeses and meats or local wine? There are shops for those too. Toy shops, art galleries, German restaurants, bakeries, ice cream shops, clothing stores, jewelry, books you name it. If you can't get to Munich, Leavenworth is happy to make you feel like you did.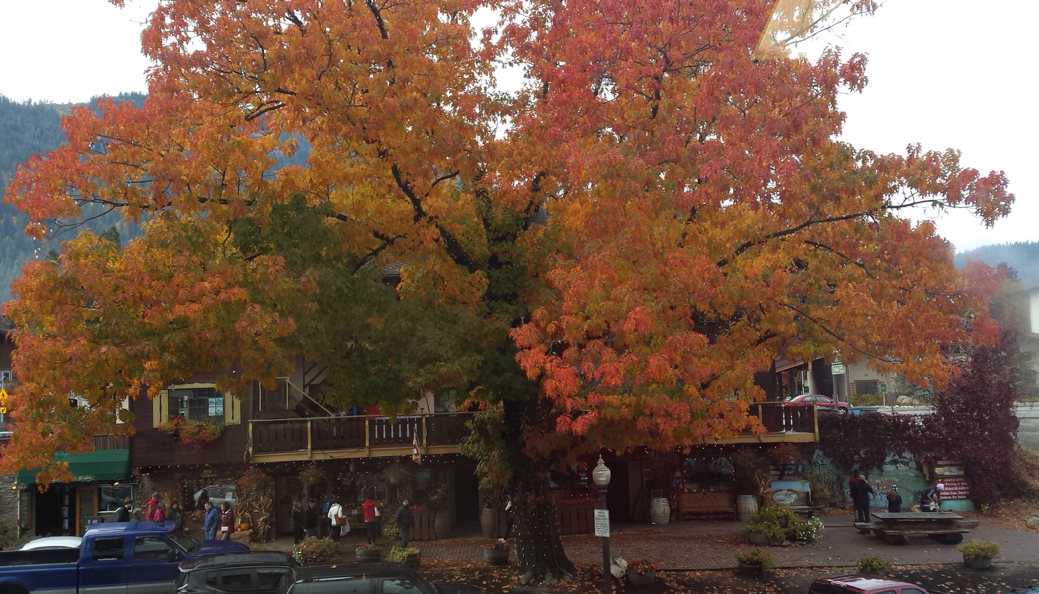 If you've had your fill of delicious German bratwursts, sauerkraut and can't possibly dance one more chicken dance, slow down and head to one of Leavenworth's fine dining Bavarian establishments. Mozart's Steakhouse is popular and offers Bavarian specialties like saurbraten, schnitzel and kasespatzle, as well as steaks, salads and other entrees. Mozart's has a large wine and cocktail selection as well as several imported and local beers and hard ciders.
If you've Oktoberfested yourself out, and want a fancier meal head over to Visconti's for Italian fare. Visconti's offers a wide selection of meat, fish and pasta dishes with a couple of good vegetarian options. There is also a large list of local and Italian wines to choose from, if for some reason, you need a beer break.
Getting Some Vitamin R and Muckamuck
Seattle and the Pacific Northwest in general have spectacular scenery. A rainy Seattle is a romantic Seattle, and the city and its inhabitants are set up to deal with the rain even if you aren't. Take a ride on one of the Washington State ferries, that depart from the waterfront. You may wait a while during commuting hours, but the ride to Bremerton or Bainbridge Island will reward you with great views of the city, rain or shine. You can board as a car or foot passenger.  The ride to Bainbridge takes 35 minutes and the ride to Bremerton takes about an hour. Watch the time, if you drove on, it passes more quickly than you think. Blocking traffic trying to get off the ferry will get you a disgusted stare or two-hundred.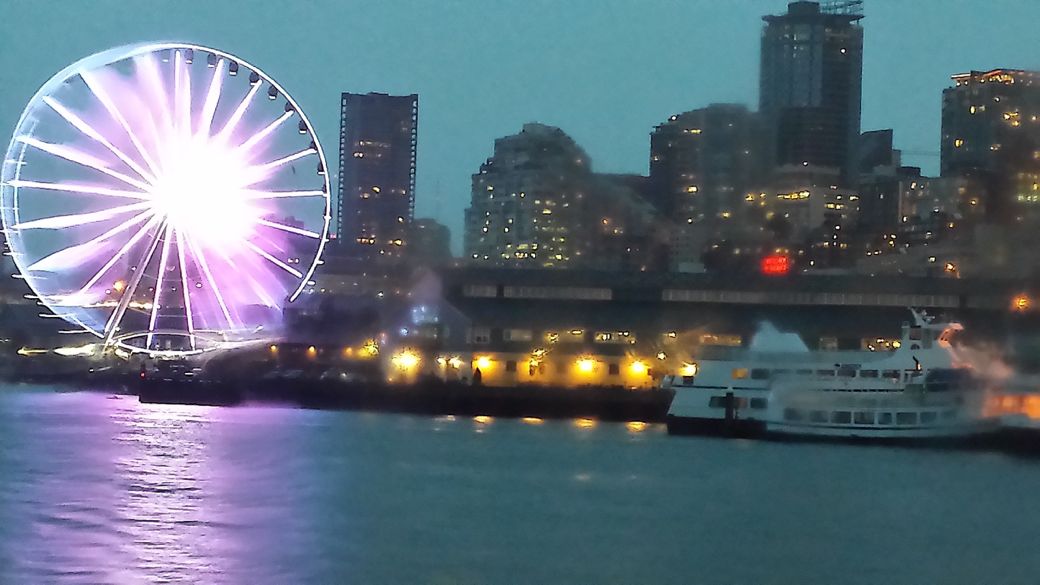 Seattle is a generally known as a craft beer town, but if you want to appear to be an old-school local ask for a little Vitamin R, a Rainer tall-boy. One of the original beers brewed in Seattle, Rainier was sold in the 1990s to Pabst. If you want to go old school craft style, look out for beers from the Maritime Pacific Brewing Company or Pike Brewing Company. If you are doubly lucky you'll have that beer with some fish-n-chips. Seattle has great seafood. If you are on the waterfront, head over to the very casual Ivar's Acres of Clams. You may duke it out with the seagulls for your lunch, but you'll have views of the Puget Sound and Ivar's is an institution and it's worth it. Bird shy? Still want Fish-n-Chips? Then head over to Fisherman's Terminal on Lake Union. The North Pacific Fishing Fleet docks here when they come back in from Alaska. Chinook's at Salmon Bay sits right on the lake with a view of the fleet docked in the marina. A varied menu with great fish-n-chips, wine and plenty of beers on tap offer up a less Hitchcockian lunch.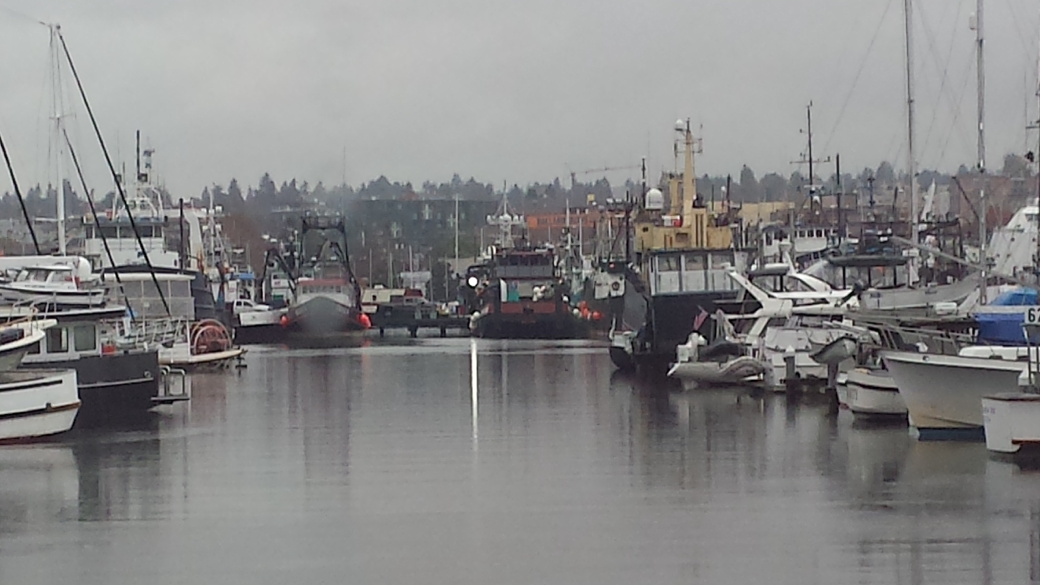 Visit Pike Place Market. Yes, it's crowded, there's tourists, but they are there for a reason. If you are staying someplace where you can cook, buy fresh flowers, produce and fish from real live fish mongers for your meal. Many locals do. You can visit the original Starbucks coffee, get a pastry or pierogi and wander through the multi-storied complex.  Don't miss Post Alley, it's right across the cobble stoned street. Just don't dart out into traffic nearly killing yourself and others. Be nice, and live long. That's separates the tourists from the locals and that's the mark of a true Seattleite. If you are up for a slightly more upscale drink or meal visit the Pink Door, located in the north section of Post Alley.  There's no sign, only a bubble gum pink door. This hidden gem has great views of the Sound, food, and it's probably good to get a reservation.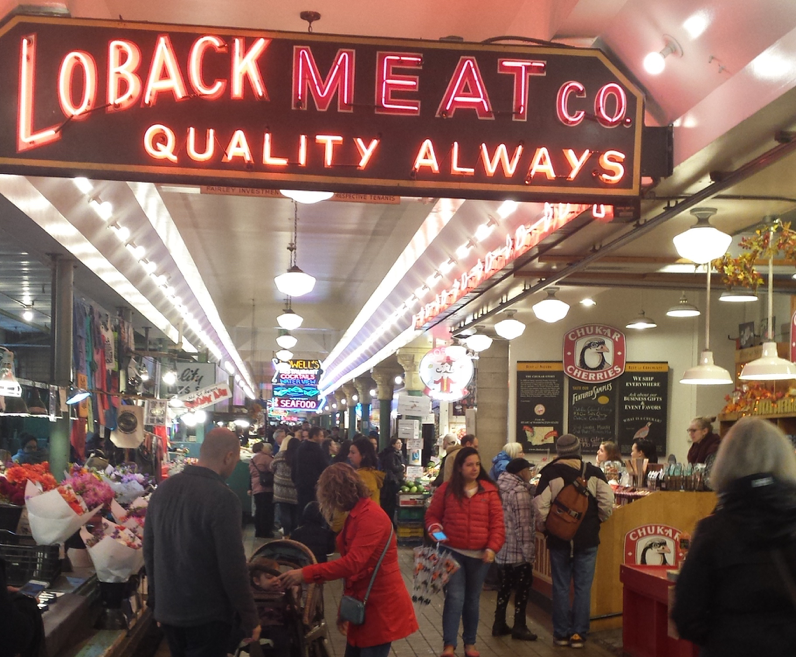 Getting to Seattle and Leavenworth
You can fly into Seattle, SeaTac (Seattle Tacoma International Airport) is most likely how you'll fly in. You can also take an Amtrak Train into Seattle's King Street Station. The Amtrak Cascades, The Coast Starlight and the Empire Builder all arrive at the beautifully restored train station. To drive to Leavenworth, you can either take the WA-522 to the US-2 highways into Leavenworth or you can take Interstate 90 from Seattle to Leavenworth. If you want to visit Snoqualmie Falls, and the Salish Lodge take the I-90 freeway to the WA-18 E.
Addresses and Websites
Seattle Tacoma International Airport – 17801 International Blvd, Seattle, WA 98158 http://www.portseattle.org/Sea-Tac
Seattle King Street Station – 303 S Jackson St, Seattle, WA 98104 https://www.seattle.gov/transportation/ks_about.htm
Leavenworth Oktoberfest – http://www.leavenworthoktoberfest.com/
Mozart's Steakhouse – 829 Front St., Leavenworth, WA 98826 (509) 548-0600
Visconti's Leavenworth – 636 Front St., Leavenworth, WA 98826 (509) 548-1213
Salish Lodge at Snoqualmie Falls – 6501 Railroad Ave., Snoqualmie, WA 98065
Ivar's Acres of Clams – Pier 54, 1001 Alaskan Way, Seattle, WA 98104 http://www.ivars.com/locations/acres-of-clams
Chinooks at Salmon Bay –1900 W Nickerson St #103, Seattle, WA 98119 https://www.anthonys.com/restaurants/detail/chinook-at-salmon-bay
Pike Place Market – Located at the corner of 1st Ave and Pike St., Seattle, WA 98101 http://pikeplacemarket.org
Seattle Ferry Terminal – Pier 52, 801 Alaskan Way, Seattle, WA 98104 http://www.wsdot.com/Ferries/Schedule