Driving down a highway that's lush and green. Driving Sola-Traveler with your own two feet (well, one most likely). Follow the direction where Sherman chased Lee. Stop Sola-Traveler over there do you see?  All right, there's a roadside stand with fruit – take a bite.  It's fragrant and sweet – peachy and keen. Keep going the road is long, but worth it you'll see. You'll arrive in a civilized town near the sea. Next go a little further to the Isle of Tybee. Slip into the water so silky and warm. The Atlantic loves you dearly but not as much as it loves a good thunderstorm. Quick get inside, out of the rain.  Sit down to dinner, then – go do it all again. For the Georgia coast has places to explore, Savannah and Tybee Island, and much, much more.
The road from Atlanta to Savannah is 250 miles long. And though the distance is great, Savannah will make you smile, and not just because of cookies sold by assertive little girls. Though cookies sold by assertive little girls always offer reasons to smile. So, buckle up and enjoy the ride and know there are places to explore along the way. Life can be like that every day.
Macon
So, imagine if you will, you are driving south on the I-75 out of Atlanta. 77 miles down road you arrive in Macon Georgia. Macon has a nice walkable downtown core, and is known for its music scene. Little Richard, The Allman Brothers and Otis Redding grew up in Macon.
Visit Coleman Hill Park. Slide down the built-into-a-hill-slide. Walk past or to the Hay House. A National Historic Landmark, the Hay House is now a museum that offers daily tours. Another notable museum in Macon is the Tubman Museum. Open Tuesday through Sunday (and Martin Luther King Jr. Day), the museum's focus is African American history, art, and culture. Just outside of Macon is another National Monument, the Ocmulgee Mounds. The mounds are the remains of an ancient Native American civilization. They consist of temples, burial mounds, lodges and other earthworks. The park is open daily (except for Christmas and New Year's Day) and admission is free.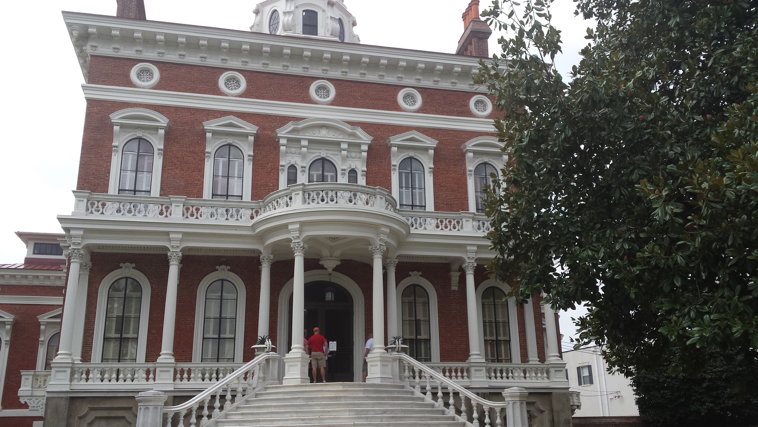 If your explorations have left your stomach in need of attention, head to The Rookery. Get your hands on and stomach around signature burgers, sandwiches, and milkshakes. Consider southern fried green tomatoes and pickles. Pick your delicious poison, poison can be angus, prime beef, turkey, chicken or a veggie patty. This intrepid Sola-Traveler combined her burger with her green tomatoes. Her Walden Greenback burger featured (in no particular order); an angus hamburger, fried green tomato, bacon, goat cheese, green onions and tomato remoulade. You can also choose from a large number of delicious sides. When you get the milkshake, and your server asks you if you'd like to add homemade cake batter, don't question the sanity of it. Just get the cake batter. Is it loaded with calories? Oh yes, but it's worth it. Besides, you have a long drive ahead of you and the gas tank isn't the only tank that needs fuel.
The Road to Savannah
Now only 166 miles separate you and Savannah. Head east out of Macon via the I-16.
Drive through the lush landscape. Verdant green trees and red soil surround you. As you drive you'll see signs for peach stands. If you can wait, about 25 miles outside of Savannah is the James and the Giant Peach stand. If you can't wait, pull over at the stand of your choosing and indulge. Peach season in Georgia runs from mid-May to the roughly the end of August. So, if you are visiting during the summer do yourself a favor. Stop and get a peach or two. Inhale the heady fragrance then bite in and enjoy the juice running down your chin. How often do you get to experience that?
Savannah Here You Come
Sweet Savannah is said to be to the oldest city in Georgia, founded before the revolutionary war in 1733. Tucked in on the Savannah River, you'll bathe in warm breezes blowing of the nearby Atlantic Ocean. Savannah is considered a coastal city, though you still have a few more miles to travel before you can dip your toes in the balmy Atlantic. Stop and take in the sites. Visit Forsyth Park, it would be a shame to miss it. Trees offer shade from the heat and drip with Spanish Moss. Forsyth park is also free. From Forsyth wander North through the Historic District towards River Walk. Savannah has 22 lovely squares to walk through. Have you read Midnight in the Garden of Good and Evil by John Berendt? It's a non-fiction account of one man's experiences living in Savannah. Real stories with a cast of characters so amazing it might not seem like non-fiction. Many of the places mentioned will cross your path as you walk through these squares. If you can, read it before you go. If not read it when you get back. The book will make your relationship with the city richer.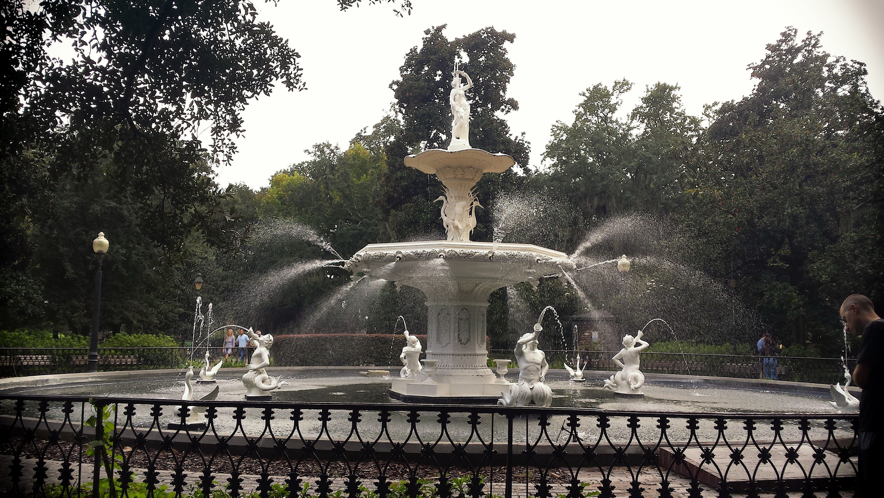 Wander through the squares shops and restaurants of Historic Savannah. Summer in Savannah is rainy. If you stop at a restaurant on River Street sit on a covered patio and watch the rain come down over the river. Savannah's Historic district has many great restaurants to choose from, but if dessert in your plans, head over to LuLu's Chocolate Bar. When you go (and why wouldn't you), consider bee-ing adventurous. Though there are amazing chocolate desserts and drinks galore, Lulu's Chocolate bar offers even more. The citrus rose martini is divine, as is the honey lavender cake. The combo is a floral frenzy, but it's daring and it must bee done.
Tybee Island 18 Miles to the Atlantic
Though considered coastal city, Savannah is actually 18-miles from the Atlantic Ocean. So, head east sola-traveler on the US-80 E and in approximately half an hour, you'll arrive on Tybee Island. Slightly sleepy but filled with fun, Tybee offers diversions that will hold your attention for days to come.
First dip your toes in the Atlantic. The North Shore beach in Tybee is a little more quiet, the South Shore is a little more honky-tonk. Pick your poison and get to it. Wade into the warm silky waters of the Atlantic. The ocean is a sweet surprise if you are used to the brisk waters of the colder Pacific.  Along the beach you'll find people picnicking, flying kites and sunbathing. There are also swing benches scatted along the shore if you just want to gaze out over the water.  Summer time in the South can mean thunderstorms.  If one starts, get inside. Though the storms are beautiful to behold, don't become the lone lightning rod on the beach. You don't want to become a scary story told over a campfire or cocktail.
Do think about though how a cocktail might be the perfect way to wait out an afternoon thunderstorm.  Maybe you could also get a bite to eat while you are at it. If you are in a kill two birds with one stone frame of mind, consider The Tybee Island Social Club. An eclectic menu offers up beach friendly tacos, burgers, and southern favorites. Get the Shrimp and Grits, just get it. They've also got mussels and clams, mussels and clams, just clap your hands. The bar serves up cocktails, wine and beer.  A Dark and Stormy might be fitting, but then so might a Socialite, Mojito or Margarita. Live music is often on the menu too.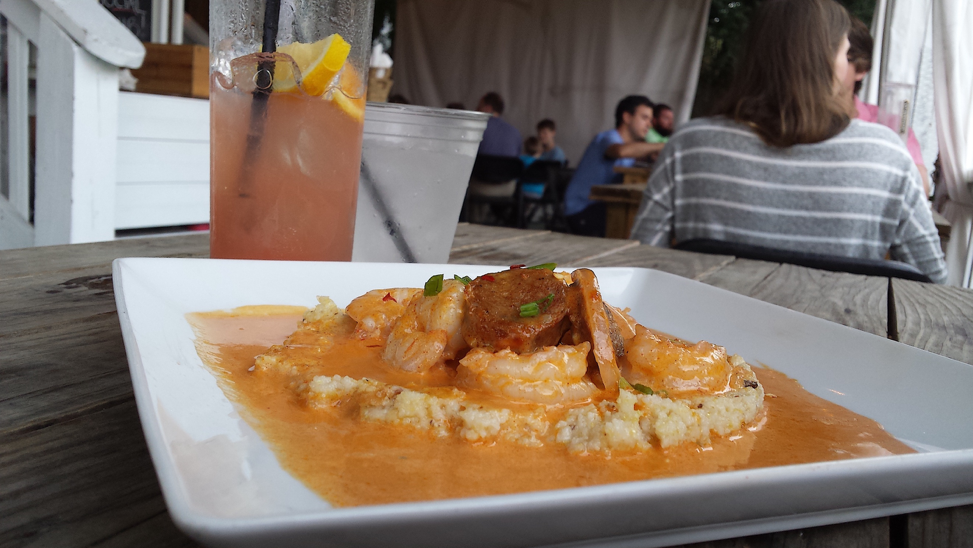 If you still have time and daylight to explore, consider the historic Tybee Island Lighthouse and Museum. The lighthouse has sat in its present location since 1791. Rebuilt after the Civil War when the retreating Confederate army destroyed the top half of the structure, it now sits completely fireproof and operational. The museum is housed in Fort Screven, nearby bunkers left over from the Spanish American war. Every Monday also brings the Tybee Island Farmers' and Artisan's Market. If you are visiting on a Monday stock up on local produce, honey, meats, breads, crafts and more.
Now sola traveler when it is time to leave Tybee Island and Savannah, heading west on the US 80, consider the setting sun. You'll have another chance to visit The James and the Giant Peach stand. And as the sun sets, looking very much like a giant peach, you might muse that maybe that's where the idea for the book came from. Maybe you'll read it, (maybe read it again) while slowly savoring a succulent Georgia peach. That might be a nice way to say goodbye.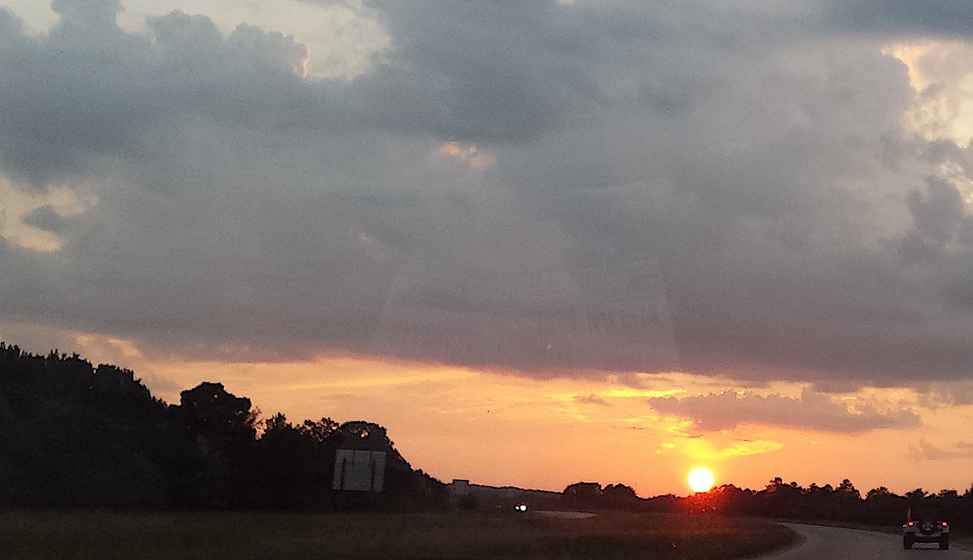 Getting to and Around Savannah
Below is a little information about how to get to and around Savannah.
By Airplane
Hartfield Jackson International Airport. Hartfield Jackson is one of the busiest airports in the world. Located just south of Atlanta, the address is 6000 N Terminal Pkwy, Atlanta, GA 30320. Atlanta is about a four and a half hour drive from Savannah.
Savannah/Hilton Head International Airport. 400 Airways Avenue, Savannah, GA 31408. SAV is twenty minutes from downtown Savannah.
 Car
Interstate 95 (North to South) or Interstate 16 (East to West) will bring you to Savannah.
Amtrak Train
Amtrak has many scenic routes throughout the continental US. The Silver Service/Palmetto route comes right through Savannah on its way to Miami. To stop at Savannah, disembark at Savannah Station, 2611 Seaboard Coastline Drive, Savannah, GA 31401.
 Greyhound Bus
You can take a Greyhound to Savannah. The Bus station is located at 610 W Oglethorpe Ave., Savannah, GA 31401.
 Lyft and Uber
Both Lyft and Uber operate in Savannah. Download the respective app to your smart phone.