Look what we have here sola traveler look closely indeed. A city in a forest to explore with your own two feet. April is a good time to walk around and see, all the trees are blooming, everything is lush and green and neat. People play here and people play there, walking and talking they are everywhere. It's not too hot, it seems just right, it's a good little visit for a few days and nights. There's a lot to do and a lot to learn. For the city of Atlanta's growing, visit, it's your turn. Atlanta, Hotlanta, call it what you like, springtime is oh so pretty, see it by car, or by bike.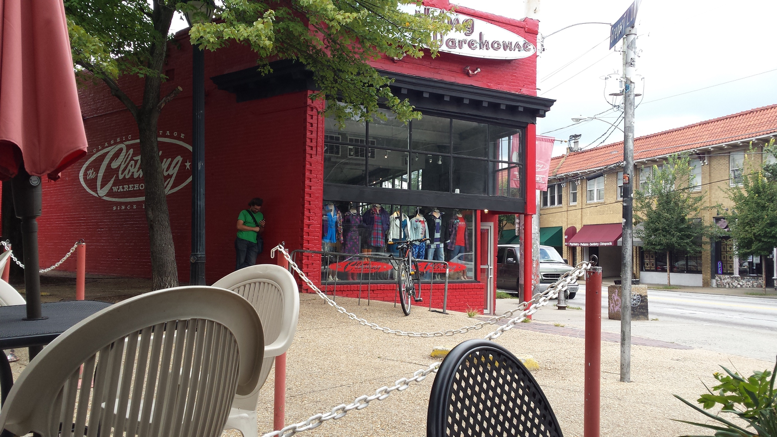 Exploring a City in a Forest
Fun and funky Atlanta has many nicknames, the ATL or Hotlanta for example. In April though, the most fitting nickname is City in a Forest. Blooming trees are everywhere you look. Mother nature has woken up with bang, and given Atlanta this beautiful gift before she makes everything hot and humid. Explore different neighborhoods and get taste for the city. Get out of your car. Walk the Old Fourth Ward, the Virginia Highlands, Little Five Points, Buckhead, Inman Park and many others great neighborhoods. Hop over to Decatur, or down to East Point at the south end of the city. This faerie forest is flowering everywhere and every neighborhood has something to show you.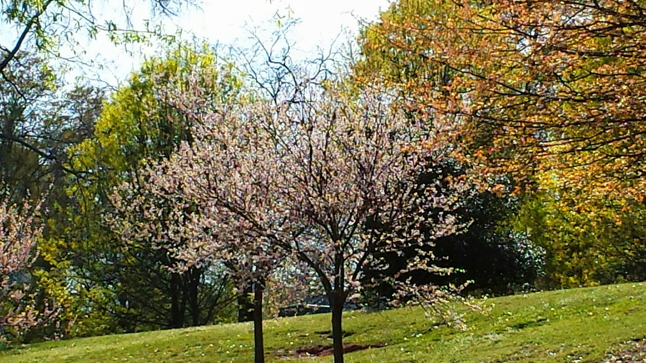 The Atlanta Beltline
The Beltline is a great way to explore Atlanta without your car. A planned greenbelt system of parks and trails for walkers and cyclists, the Beltline will eventually expand to include trolley lines and the circle city. Rent a bike and pedal around. Stop at one of the many restaurants off the path. There are often concerts and art exhibits off the Beltline as well. You can currently pedal from Piedmont Park in Mid-town down to the Krog Street Market and back. Your trip will be just over four-miles round trip, and will take you through the Virginia Highlands and the Old Fourth Ward, ending in Inman Park. Bike rentals are easy in Piedmont Park, there are several rental shops to choose from. The choice of this sola traveler was Skate Escape located at 1086 Piedmont Avenue NE near the South-West portion of the park. Skate Escape is reasonably priced, and bikes can be rented by the day or by the hour, just know that hourly rentals are cash only.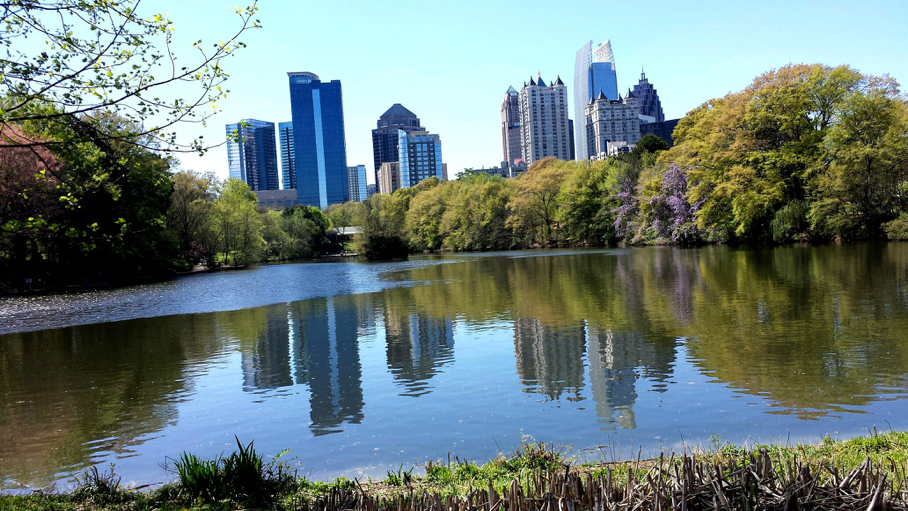 Piedmont Park
When you are done with your bike ride, you'll miss out if you don't explore glorious Piedmont Park for its own sake. Piedmont park is approximately 185 acres of verdant green park located between Piedmont Heights to the North, the Old Fourth Ward to the South, Midtown on the West and Virginia Highlands on the East. The park hosts a large open field called the Meadow, soccer fields, tennis courts the Atlanta Botanical Garden, a small lake, picnic facilities, and paths for hiking or biking. Piedmont Park hosts many events through the year so there's something for everyone, no matter when you go.
The Old Fourth Ward and the Virginia Highlands
There are people who like funky antique shops. There are also those who adore, delicious food and coffee. And then there's some who love a plush red velvet draped space that would make Toulouse-Lautrec green with envy. If these things are your things, make a beeline off the Beltline to Paris on Ponce. Smack dab in between the Old Fourth Ward and the Virginia Highlands and right off the beltline sits Paris on Ponce, a space bursting to the seams with curated art, antiques and adventure. Le Maison Rouge is the performance and event space. Drop in for a burlesque show or a play if one is up, or rent it and create your very own event. Le Maison Rouge is sumptuous and you'll feel like you've been transported back in time to La Belle Époque.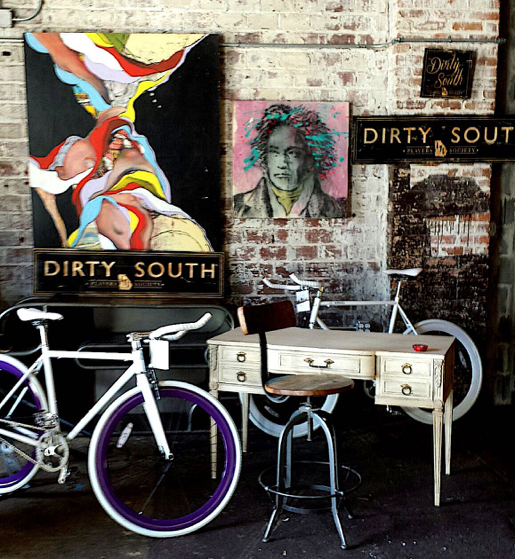 Fried Pickles and Banana Pudding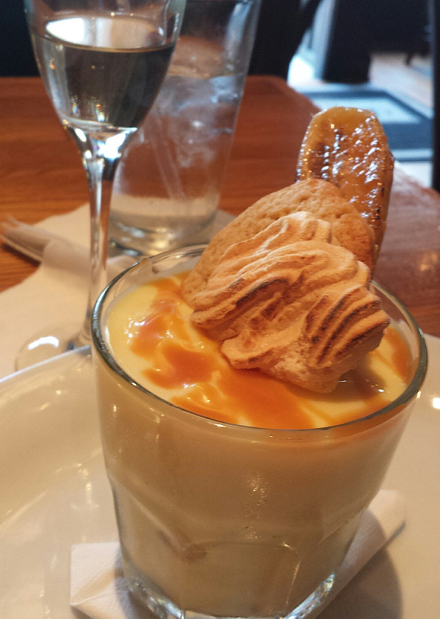 Biking and gawking can make a traveler hungry sola or not. You'll find many good options for taming the hungry beast within in this neck of the woods. If you want to visit the oldest continuously open tavern in Atlanta, go to Atkins Park in the Virginia Highlands. Atkins Park is a nice casual spot located at 794 N Highland Ave NE. The food is well made solid fare with a few upscale options. Word to the wise, if you've never had fried pickles, get them. Also get the banana pudding. A full bar delivers libations for your relaxation. Word on the street is that they also have a good brunch.
Now you can get back in your car or hop on the Marta and head on over to Buckhead, Atlanta's answer to Beverly Hills. This sparkly neighborhood is full of shopping, restaurants, and office buildings. So, when the aforementioned beast raises its head and tells you eat up pronto, consider Southern Art and Bourbon Bar. The shrimp and grits are really, really, good and the chef definitely knows his way around a cheese plate. Anything eaten here will tame your hungry beast – until tomorrow.
Martin Luther King
Another important stop is the Martin Luther King Jr. National Historical Site. The site includes the King Center which was founded by Dr. King's widow, Coretta Scott King. The center contains artifacts and other historical information about Dr. King and his work. Tours of the National Historical Site are available, including Dr. King's birthplace and childhood home. Parking and admission are free, but registration is required to visit Dr. King's childhood home.
Register in person when you visit. Tours are capped at 15 persons per tour and are operated by the U.S. National Park Service. The Martin Luther King Jr. National Historic site is located at 450 Auburn Ave. NE.
Getting Around and Other Inside Information
Below is a little information about how to get to and around Atlanta.
Hartfield Jackson International Airport – Hartfield Jackson is one of the busiest airports in the world. Located just south of Atlanta, the address is 6000 N Terminal Pkwy, Atlanta, GA 30320
 Car – Freeways run all around Atlanta. The Interstate 285 makes a loop around the city, and the I-75, I-85 and I-20 run through it. Locals say you are either inside or outside the perimeter of the I-285 when describing where you live. Atlanta has heavy traffic, so just be alert when driving.
 Amtrak Train – Amtrak has many scenic routes throughout the continental US. The Crescent route comes right through Atlanta on its way to New Orleans. To stop at Atlanta, disembark at Peachtree Station, 1688 Peachtree St NW 30309, just north of Downtown.
MARTA – Marta stands for the Metropolitan Atlanta Rapid Transit Authority. The MARTA system consists of both transit buses and trains.  Fares are $2.50 for up to three transfers in three hours, or you can purchase daily, weekly, or monthly passes. The MARTA train connects directly to Hartfield Jackson International Airport and is a great way to get around Atlanta.
Greyhound Bus – You can take a Greyhound to Atlanta.  Bus stations are located at the airport and just south of downtown at 232 Forsyth St SW, Atlanta, GA 30303.
 Lyft and Uber – Both Lyft and Uber operate in Atlanta. Download the respective app to your smart phone.