Well Sola Traveler, you're back at it again, I see. Traveling the world on your own two feet. Some would say there's a new place to be that's off the beaten path. Some would say new, Croatia – what are you, daft? Old or new to you, does it matter? Get your feet there quickly, pitter patter, pitter patter. Lots of art to see and food to eat this Croatia place is oh so neat. The people are kind and the air is clean, and Zagreb the capital city, is a place  you should see.
Exploring Zagreb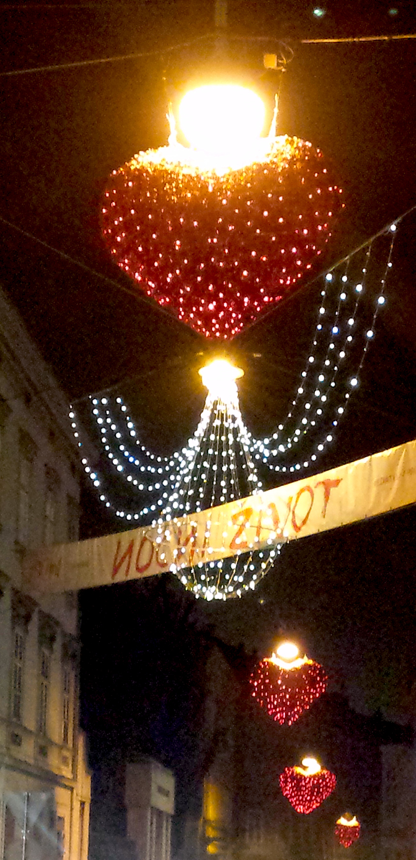 The greater Zagreb metropolitan area is home to approximately 1.3 million people. Teeming with art, theater, music, parks and good food,  Zagreb makes it easy to have a good time. The city is extremely walk-able, and public trams make getting around even easier. Zagreb hosts Christmas markets in winter, which; have been voted the best Christmas markets in Europe for two years running (2016 and 2017). Stroll through the beautiful markets. While you are there, toast the crisp cold air with a cup of steaming kuhano vino (mulled wine), kolbasica (sausage) or chestnuts that were roasted on an open fire. Twinkling licitars (hearts) and chandeliers light the streets. Live music, boutiques, art galleries and laughter are just some of the possibilities you'll encounter as you explore the quirky and romantic city that is Zagreb.
Gornji Grad
Gornji Grad (Upper Town) is one of the oldest parts of Zagreb. Tkalcevica Street (Ulica Ivana Tkalcevica) is a former creek turned lovely funky colorful pedestrian friendly street lined with café bars, restaurants and boutiques.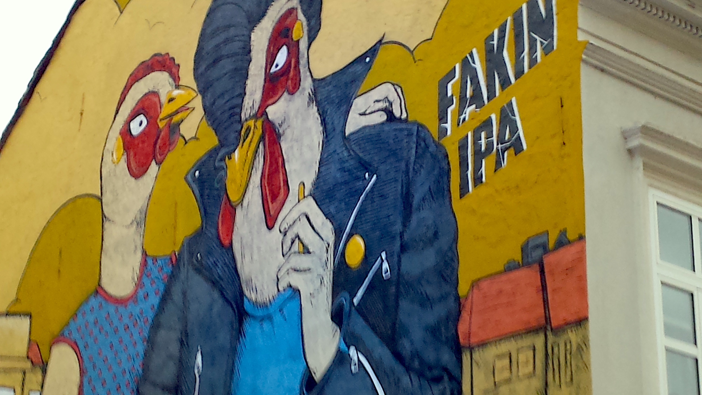 Start your day or simply while away the hours having a coffee (kava) or glass of wine,and watch Zagreb stroll by. Most café bars in Croatia do not serve food, but none seem to mind if you bring in a snack, a little pastry or kolbasica to enjoy with your drink. You can spend hours talking about everything and nothing in a café in Zagreb. Also, most cafes have free Wi-Fi. Check the bottom of your receipt for the password. Pass a few minutes sitting in a little park with one of Croatia's famous writers, Zagorka. When you are ready, make your way down Tkalcevica Street and very quickly you'll land in Ban Jelacic Square (Trg Bana Jelacica), the center square of Zagreb.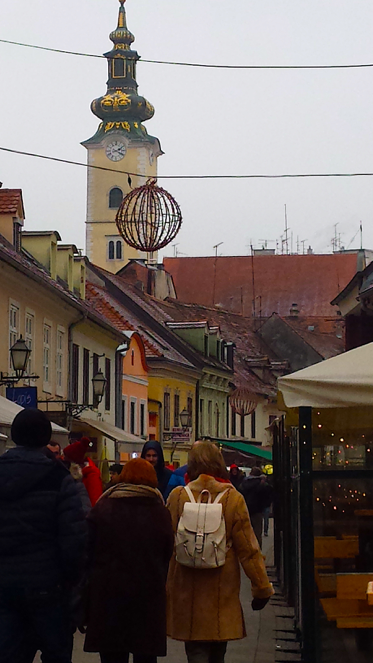 Just north of Ban Jelacic Square is Kaptol one of the two original villages that merged to create Zagreb (the other is Gradec).  Walk two minutes from Ban Jelacic Square and you will discover the Dolac Market, a glorious open air market known as "The Belly of Zagreb". Open seven days a week from 6:30 AM, Dolac is a great place to buy flowers, fresh produce, meat, cheese and dairy as well as locally made arts and crafts. Produce is on the upper level, in the open air, Dairy and meats are enclosed on the floor below. Above the market, you will see the twin spires of Zagreb's main cathedral.
Whatever you do, don't miss Gradec as you explore Gornji. If you're game, walk along the hillside path that skirts outside edge the neighborhood of Gradec. From the path, you'll be able to see some of the city's original fortifications. Brace yourself for the cannon that is shot out of Lotrscak Tower every day at noon. There are steps from Tkalcevica Street (Ulica Ivana Tkalcevica) that allow you to climb to the top of Gradec.  If you aren't into steps (and there are many), take the Funicular, the mini tram located just west of Ban Jelacic Square at the corner of Ilica and Tomic Streets. The Funicular will hall you up a track to the top of Gradec and deposit you on the Strossmayer Promenade. There are also steps available to climb at the station. When you arrive, sit with a famous Croatian writer on the promenade.  Then stroll about and see if you can find the neighborhood's hidden courtyards.
Strongly consider taking a walking tour in Zagreb. Walking tours usually last around two hours and guides speak English. One particularly fun tour is the Ghost and Dragons Walking Tour. Meet your guide, at night in front of Stone Gate for a candlelight walk to the spookiest places Gradec offers.  Maybe you'll return, maybe, you won't. If you do make it out alive celebrate life by packing your belly full of delicious food and drink at Konoba Didov San. At this cozy family owned restaurant, you won't be allowed to leave hungry, nor will you want to.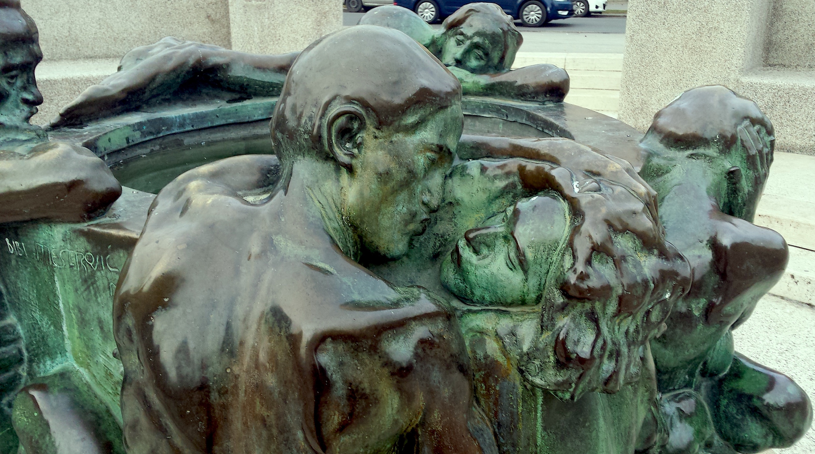 Gradec is also home to Croatia's Presidential Palace and Parliament, St. Mark's Cathedral, and because Zagreb is romantic at heart, the original Museum of Broken Relationships. The museum consists of curated mementos of loves lost sent in by your fellow humans from all over the globe. It's a sweet and bittersweet exhibit. Commiserate and celebrate what it means to love, and if you are brave, leave a memento of your own for others to see.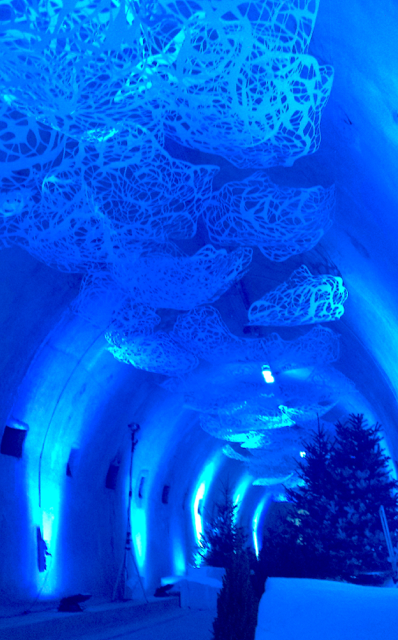 There's one more thing, a kind of secret to explore. Before you leave Gradec walk back down the Strossmayer Promenade, past the famous writer and towards Ulica Mesnicka (Mesnicka Street).  Next, make your way around, and  walk into the hill, right into the Gric Tunnel. This recently renovated tunnel was originally built as a World War II bomb shelter.  The tunnel takes approximately 5 minutes to walk through. The well-lit passageway hosts the occasional art exhibit and performance. And, if sola traveler, you take the right exit (Ilica Street), you will emerge onto Donji Grad.
Donji Grad
During the winter, Lenuci's Horseshoe is where the biggest and brightest Christmas markets are located. If you are visiting the markets, wander through the twinkly lights, listen to live music, go ice skating, eat and drink as many delicious foodstuffs as you can.  But save some room in your belly because Donji Grad also has excellent shopping and restaurants galore.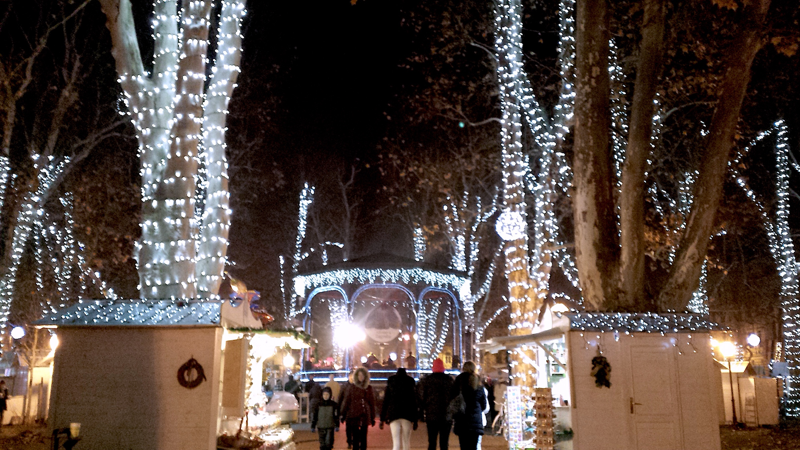 One great restaurant to try for traditional Croatian cuisine is Vinodol. Located on Ulica Nikole Tesle (Nikola Tesla was Croatian by the way), Vinodol is elegant and reasonably priced for the quality of the food. If you eat yourself silly and can't face the easy walk back, trams run up the street past the Horseshoe from the central train station and can haul you back up to Ban Jelacic Square and beyond.
Varazdin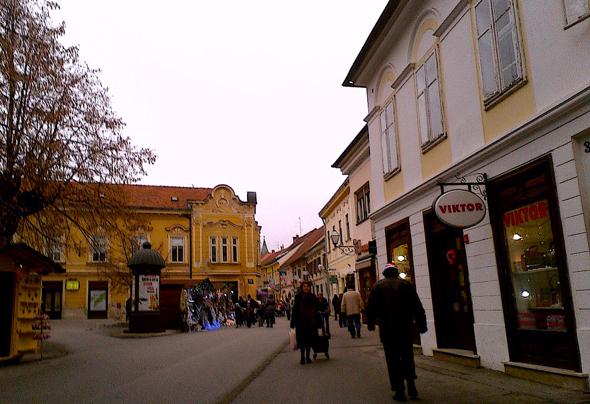 Speaking of beyond, a little over an hour north of Zagreb is the city of Varazdin (vair-azh-din). In Varazdin you will find a medieval castle, shops and many beautiful baroque catholic churches and cathedrals to explore. The city was also for a short time the capital of Croatia. Walk the over the bridge past the castle and into the streets of Varazdin. Seek out the many hidden art exhibits including a love lock installation.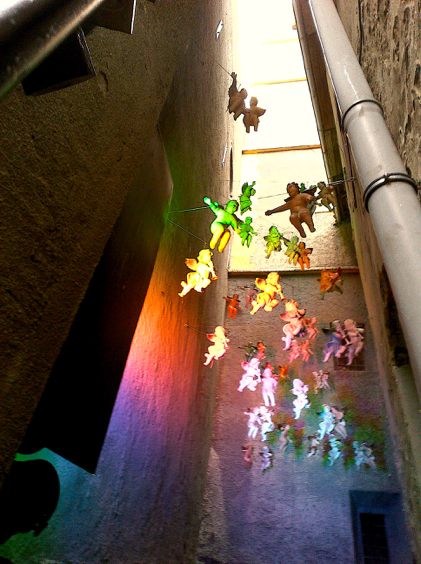 Take a break from shopping and exploring the castle grounds to take kavana (sit down to coffee). Kavana Grofica Marica is the perfect spot to warm up on your winter journey, or any journey for that matter. Located on Varazdin's main square, the popular kavana cafe offers very good coffee, cake and light snacks. Have a seat in its elegant yet laid back dining room. Sit as long as you like, and indulge in the Croatian custom of speaking of everything and nothing at all. Simply enjoy your kava and the company of those around you.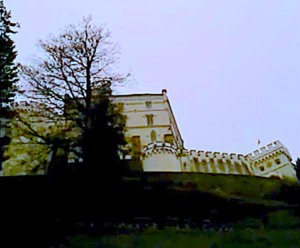 After you've recharged it's time to make your way to the Croatian countryside to the castle of Trakoscan.  Founded in the 1300's, Trakoscan Castle sits high upon a hill near the Slovenian border. For over 400 years the Drakosic family owned Trakoscan. Then, in 1944 the castle became the property of the Croatian people. Imagine yourself living in times past and gazing down from the castle to the road far, far below. Trakoscan is good for your heart, both in terms of romance and cardiovascular health. The climb up to the castle is a work out. For 30 Kuna (15 Kuna for school children) adults can enter Trakoscan castle and view castle antiquities and the rooms where Trakoscan's inhabits lived.
The grounds also include a forest and lake. Exploring the forest and lake is free. Warmer seasons make picnicking on the castle grounds a delight. Just know, photography inside the castle is not allowed, but there are souvenirs for purchase.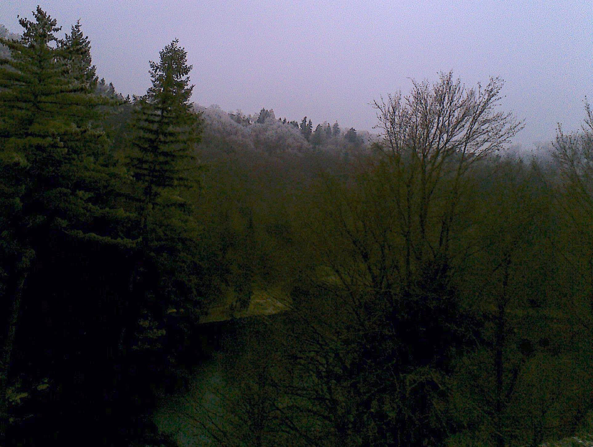 Getting Around and Other Inside Information
Below are some tidbits of traveling information to help you hit the ground running.
Tourist High Season – July and August.
Zagreb Airport – Located approximately 6.5 miles from City Center.
Taxis – There are taxi stands at the airport, bus station and train station.
Uber – Uber operates in Zagreb, though its network of drivers isn't as expansive as in the USA. Also, Uber in Europe doesn't accept PayPal. They do take Visa (I suggest changing your Uber method of payment. Use the same card you use for traveling).
Bus Station – Many Croatians take the bus between different cities. Trains are not used as much as in other European cities. There are many bus lines. Tickets are generally inexpensive. Check buscroatia.com or getbybus.com for routes and ticket I took a bus from Zagreb to Zadar for $8 (55 Kuna). You can purchase your ticket at the station, though advance tickets can be ordered online (purchase in advance during the tourist season).
Train Station – Croatia is part of the Euro Rail network. You can travel to Zagreb from other European cities. You can also reach all major cities except Dubrovnik by rail (you can take a bus to Dubrovnik from Split). Visit https://www.raileurope.com for more information.
U.S.A. Embassy – The embassy is located near the Zagreb airport at: Ulica Thomasa Jeffersona 2, 10010 Zagreb Croatia. Website: https://hr.usembassy.gov
Zagreb hosts other embassies too, it is the capital of Croatia after all. The Spanish Embassy is in Gornji Grad, for example. It's good to know where embassies are when you are traveling, but as my taxi driver Denis cheekily pointed out when we drove past the U.S. Embassy, hopefully you never need one.
Tourist Information Centers – There are several offices in Zagreb, including Ban Jelacic Square and on Strossmayer Promenade, in the bottom of Lotrscak Tower in Gornji Grad. The staff is extremely helpful and kind. Visit the Zagreb Tourist Board site (in Croatian) for locations http://www.tzgz.hr/kontakt.
Tram Tickets – You can purchase Tram tickets at ZET stores, Tisak Kiosks( newsstands often found in bus and train stations) or from the Driver directly. You can get single ride, and various passes good for a day, week month or even year.
Groceries – In addition to the Dulac Market, the grocery store chain Kozum has branches throughout Croatia, including Zagreb.
Pharmacies – You can easily spot pharmacies in Croatia, they are marked with a green cross.