Well, Well Sola Traveler here's a place to see, on the Dalmatian Coastline, beautiful as can be. Not only can you walk along the azure shore, you can travel inland, to a national park so amazing, your jaw will hit the floor. Well, the trail really. These places so beautiful; beautiful it's true, are not that far from each other, only an hour or two. So, put them on your list and go toot suite, travel Sola Traveler on your own two feet.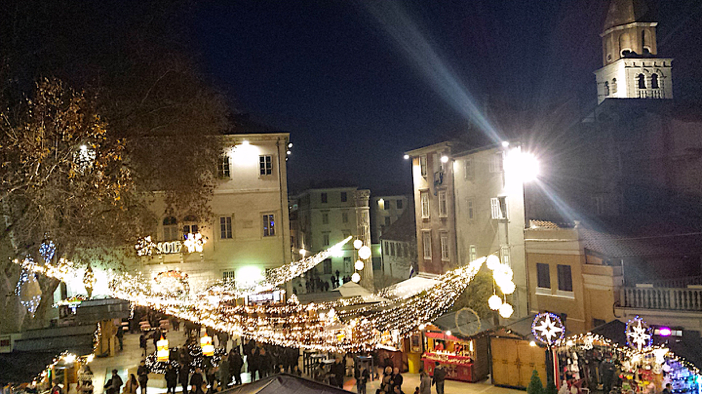 Old Town Zadar
Zadar, with a population of approximately 75,000 people, offers quite a bit to experience. If you visit during the Christmas holidays, you can take advantage of the Advent Market near Land Gate. Christmas markets in Croatia are open for approximately four to six weeks, the one in Zadar runs from the first week in December through the first week in January. While you are there, enjoy live performances, twinkly lights, kuhano vino (mulled wine), kolbasica (sausages), fritule (donuts), conversation and laughter – life could be worse.
Old town Zadar is a walled city. You can visit or if you like, inhabit old town, and stay in one of the many apartments available to rent. While you are there, stroll along Riva, the promenade that runs along the Adriatic Sea. Make your way down to the Sea Organ, pause – and listen to the song the sea sings for you. If you want to see what the seas' songs look like, amble over to The Greeting to the Sun, a solar art installation that is best viewed at or just after sunset. The two installations work together; and the Greeting's lights mirror the Sea Organ's music.

Zadar also has the ruins of a Roman forum, the Land Gate and many cathedrals and churches to see. There is a daily open air market near the city gates on the marina side of old town. At the market, you can buy fresh fruits and vegetables, meat, fish and cheese. When the lovely people of Zadar tell you to get the Pag Island cheese, do it. They are doing you a favor. You will not regret it.
Croatia has really, really, excellent food. In Zadar, there's the bright and modern Restaurant Bruschetta. Located just off the Riva, Restaurant Bruschetta serves lovely Mediterranean and Dalmatian dishes. Tucked away next to a beautiful church inside old town on Ulica Brne Krnautica (Ulica is Street in Croatian), is the cozy traditional favorite Zadar Jadera. The food is authentic, delicious, and the staff is kind. There are many good restaurants and konobas in Zadar to choose from. If you stay long enough, you can try them all.
Plitvice Lakes National Park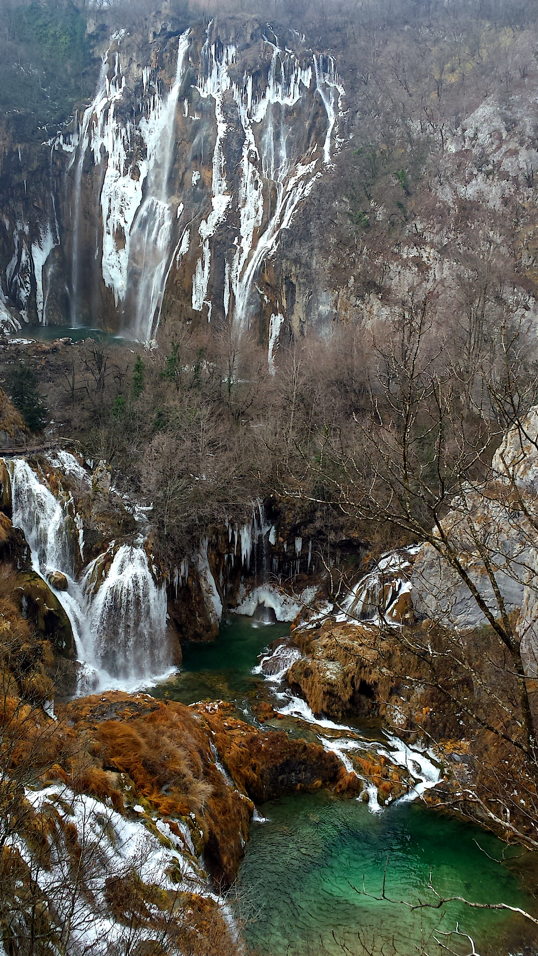 Plitvice (pronounced plit-vich-eh), is an astoundingly beautiful national park located approximately one and a half hours from Zadar. Though you can easily drive yourself, booking a small group day tour can make your trip even better. Tour guides speak English, and many other languages. Having a guide also brings VIP privileges like learning the history of the park and jumping to the top of the line.
Lines at Plitvice are known to be very long in high season, and Plitvice is so beautiful you will want to get in and start hiking as soon as you can. Though it is an easy hike, it is still a hike so it's a good idea to wear comfortable shoes and dress appropriately. The park is open year-round. And winters in Plitvice, can be cold.
The park is a UNESCO World Heritage Site. Once you are inside you can hike between 16 crystal clear mineral lakes. Travertine limestone has created terraced waterfalls and there's even a cave. Plitvice Lakes look like a fairy tale come true. Once you reach the largest of the lakes (Kozjak) you will glide almost silently across the clear blue lake on a pollution free electric boat. Sit back and enjoy the view. When you reach the opposite shore, you can walk back above the lakes, or a take a tram back near the gate of the park.
Booking a Small Group Tour in Zadar
So, small group tours are great, but which one should you take? The Romeo and Juliet Travel Agency located in old town Zadar was the choice of this intrepid Sola Traveler. Friendly and professional, my guide met me at my apartment, walked me to the car, and drove me to Plitvice. Romeo and Juliet focuses on quality not quantity. Their goal is to take a personal approach to their guests; when my guide arrived, she arrived with my lunch.
This approach sets the day up with a sense of fun, and makes you feel welcome. Your tour will generally have no more than 10 persons per trip, and they will even do tours for one or two people. Another great thing about Romeo and Juliet Travel Agency; they're open year-round. If you trip is in the off season, they can help you out. Just know that some excursions aren't available during the winter. To tour the Plitvice Lakes, the Kornati Islands and many other beautiful Croatian places, do yourself a favor and book your tour through the Romeo and Juliet Travel Agency.
Getting to Zadar
Getting to Zadar is relatively easy. Zadar has an international airport, so you can fly in directly.  You can rent a car. Zadar is approximately a two-hour drive from Zagreb (Croatia's capital city). You can take a train from Zagreb to Zadar. Trains are not widely used in Croatia however; you are better off taking a bus. Croatia has an excellent network of buses and are one of the most popular ways to travel between cities. Croatian buses are relatively inexpensive and most buses have Wi-Fi. You also can take a ferry from Italy to Zadar.
Getting Around and Other Inside Information
Below are some tidbits of traveling information to help you hit the ground running.
Tourist High Season – July and August.
Tourist Information Center – The Zadar Tourist office is in Old Town. Mihovila Klaica 1, HR-23000, Zadar, Croatia
Romeo and Juliet Travel Agency – F.Grisogona 3, Zadar, +385 98 912 7402. http://romeoandjuliet.hr/
Zadar Airport – The airport is approximately 8 miles from Old Town Zadar. 23222, Zemunik Donji, Croatia
 Taxis – There are taxi stands at the airport, bus station and train station.
 Uber – Uber operates in Croatia, though its network of drivers isn't as expansive as in the USA. Also, Uber in Europe doesn't accept PayPal. They do take Visa (I suggest changing your Uber method of payment. Use the same card you use for traveling).
Bus Station –Many Croatians take the bus between different cities. Trains are not used as much as in other European cities. There are many bus lines. Tickets are generally inexpensive. Check www.buscroatia.com or www.getbybus.com for routes and ticket I took a bus from Zagreb to Zadar for $8 (55 Kuna). You can purchase your ticket at the station, though advance tickets can be ordered online (purchase in advance during the tourist season). Ante Starcevica 1, 23000 Zadar, Croatia
Train Station – Croatia is part of the Euro Rail network. You can travel to Zadar from other European cities. You can also reach all major cities except Dubrovnik by rail (you can take a bus to Dubrovnik from Split). Visit https://www.raileurope.com for more information. Ulica Ante Starcevica, 23000, Zadar, Croatia
Ferry – You can take a Ferry from Zadar to several local islands and a ferry to Ancona Italy. Luka Gazenica Gazenicka cesta, 23000 Zadar, Croatia
Groceries – In addition to the open-air market in old town, the grocery store chain Kozum has branches throughout Croatia, including Zadar.
 Pharmacies – You can easily spot pharmacies in Croatia, they are marked with a green cross.